Testimonials
I wanted to hire a house cleaning service so that my wife and I would have more time to spend...
Darren Charles
I was over the moon with Cleaners Bloomsbury as they managed to do an end of tenancy clean...
Rita Watts
I used to dream of my flat looking beautiful and pristine. Everything ended up all over the...
James
When I first looked into hiring a cleaning company Bloomsbury Cleaners were a name that came...
Sue
I do take great care when it comes to house cleaning and I like to think in general I do...
Brenda H.
I wanted to surprise my wife with a clean home as she had been overseas with work. I was...
Charlie Pastor
When I moved house I needed a new window cleaner but I didn't want one that was going to be...
Lizzie Simpson
I am a carpenter by trade and I work for a local but very popular construction company. My...
Bob Henson
I was so pleased with the recent house cleaning service I have just had done by the team from...
Freda
Thanks so much to all at Bloomsbury Cleaners who have been doing such a sterling job for our...
Louis L.
Tackling Tough Bathroom Dirt
12

Jun 2014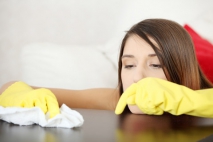 The bathroom is a difficult spot, and you will find that there are several places that you will come across tough spots to clean. The nature of the business that goes on in the bathroom will always mean that the room is going to be a tough one to tackle. You will find also that people are loathe to clean the bathroom regularly, because the jobs are so tough, but in fact the best way to reduce the effort that those jobs take will be to attack the trouble areas regularly. You will find that consistent cleaning of the bathroom will reduce the likelihood of lime scale and soap scum building up alongside other grime and dirt. There are a few simple steps that you can take towards getting the bathroom cleaned, and you will find that simply going through the motions should lead to a nicely cleaned bathroom. First off, you really do need to remove all of the detritus form the room if you are going to get it cleaned properly. This means throwing away all used up product bottles as well as any rubbish in the waste bin. Rinse off all of the bottles that you do need in there, so that when you do replace them you are good to do so without spreading more muck everywhere. Put the bottles aside, and get to work on the tough spots!You will find that one of your worst enemies in the bathroom is lime scale. Fortunately enough, a great friend in cleaning the bathroom is white vinegar. Remove the shower head and soak it in vinegar overnight, and you should see that the limescale simply rinses off when you run it under a tap the next day. The acid in the vinegar is exactly the ticket for breaking down the tough lime scale residue, and you will find that the results are magnificent. You can do the same with the taps and other metal fittings, but it will tape a little ingenuity, as these fittings are not usually easy to remove. The best way to do this is to tape a sandwich bag over the whole unit and to fill it with the vinegar, so that you are able to keep the vinegar in contact with the metal all night. In the morning, just polish it off with a brush, and you should find that it is all good to get shined up nicely!Leaving the cleaning product that you use in place is essentially the best way to reduce your overall effort in the bathroom cleaning sense. You will need to leave cream cleaners in place for ten minutes or so before you start scrubbing, as otherwise you might as well use water! The degreasing and dirt tackling elements need a second to start breaking down the dirt, as otherwise you are not getting the full effect of the product. Use a stiff brush on all areas of the bathroom, rather than relying on little rough sponges, as you will find that the sponges wear out pretty quickly, which is a nuisance. The stiff bristles will cut through harder build ups, like the soap scum or lime scale, and be a lot more effective in getting rid of all of the dirt. You will however find that there is still a lot of work needed, and it will usually be a room that requires a lot more effort than other areas of the house, because of the nature of the dirt that occurs in there.
You may also like: