Testimonials
I wanted to hire a house cleaning service so that my wife and I would have more time to spend...
Darren Charles
I was over the moon with Cleaners Bloomsbury as they managed to do an end of tenancy clean...
Rita Watts
I used to dream of my flat looking beautiful and pristine. Everything ended up all over the...
James
When I first looked into hiring a cleaning company Bloomsbury Cleaners were a name that came...
Sue
I do take great care when it comes to house cleaning and I like to think in general I do...
Brenda H.
I wanted to surprise my wife with a clean home as she had been overseas with work. I was...
Charlie Pastor
When I moved house I needed a new window cleaner but I didn't want one that was going to be...
Lizzie Simpson
I am a carpenter by trade and I work for a local but very popular construction company. My...
Bob Henson
I was so pleased with the recent house cleaning service I have just had done by the team from...
Freda
Thanks so much to all at Bloomsbury Cleaners who have been doing such a sterling job for our...
Louis L.
Spring Cleaning - End Of Tenancy
21

Mar 2014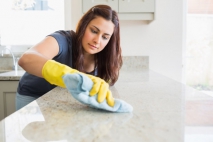 Spring cleaning rented accommodation is a necessity and should be at the top of the 'to do' list when contracts come to an end and tenants are moving out. Failing to do this could result in a forfeit of the deposit you paid at the start meaning that you lose out! So how should we spring clean our rented property when we are moving out?Start room by room! It's probably better to start room by room and do a thorough job of that room before you move on to the next. Some rooms may not require much work whereas others may need a full on clean if time is limited try to concentrate on those needy rooms more. Some rented homes which may have been well looked after, or which may have only been rented for a short period of time usually require very little work at the end of a tenancy. Those who may have rented a property for a considerably long time or those with large busy families could find that more work is required at the end of the tenancy contract and may find doing a property deep clean to be too much. If this is the case, it may be more beneficial to hire professional domestic cleaners because they are more likely going to achieve better results, in lesser time it would take you to do it, and the whole process could end being more cost effective also.What is so good about professional cleaning agencies? -Hiring cleaning agencies to give your rented property a thorough clean is not as expensive as you may think; in fact it could work out to be more cost effective than doing it yourself because you do not have to buy all of the cleaning products to do it. -Agency cleaners come fully equipped and prepared for the job, they have tools and detergents designed to clean even the most difficult areas of a property, so they are more likely to achieve a more effective result than anyone else. -Cleaning agencies can do a job in half the time it would take you to do it and if time is limited it is certainly the quicker option to take. -Cleaner cleaners, you can opt for eco-friendly cleaners over conventional cleaning methods if you wish, this means that chemicals and harmful strong detergents are eliminated in favour of fresher, more natural resources such as homemade cleaning remedies and steam cleaning machines. Another option is to clean the property yourself and then hire the experts for other jobs around the home, such and carpet and upholstery cleaners, many people use this method as a way of reducing costs. This method means that most jobs are done by the tenant but great effective results are achieved when expert cleaners tackle those hard to clean areas. The results are often effective!Tenants and problem areas! Tips/The top three areas which are usually considered as the more difficult jobs to accomplish when tenants are moving out tend to be areas such as carpet cleaning, upholstery cleaning and kitchen cleaning. (Sometimes upholstery is not included when a property is rented unfurnished.) For tenants it's a good idea to protect those areas as much as possible, so that very little work is required at the end, try to cover carpets with rugs and carpet protectors to save them as much as possible. Cover up rented furniture to protect it and save the need for cleaning it later on, try a throw-over or furniture covers.Kitchens, if a kitchen is cleaned as you use it, you keep the work load minimal. Don't allow grease to gather, wipe as you go and remember to clean areas such as tops of cupboards regularly, to avoid grease sticking.
You may also like: