Testimonials
I wanted to hire a house cleaning service so that my wife and I would have more time to spend...
Darren Charles
I was over the moon with Cleaners Bloomsbury as they managed to do an end of tenancy clean...
Rita Watts
I used to dream of my flat looking beautiful and pristine. Everything ended up all over the...
James
When I first looked into hiring a cleaning company Bloomsbury Cleaners were a name that came...
Sue
I do take great care when it comes to house cleaning and I like to think in general I do...
Brenda H.
I wanted to surprise my wife with a clean home as she had been overseas with work. I was...
Charlie Pastor
When I moved house I needed a new window cleaner but I didn't want one that was going to be...
Lizzie Simpson
I am a carpenter by trade and I work for a local but very popular construction company. My...
Bob Henson
I was so pleased with the recent house cleaning service I have just had done by the team from...
Freda
Thanks so much to all at Bloomsbury Cleaners who have been doing such a sterling job for our...
Louis L.
How To Clean Your Patio
16

Dec 2014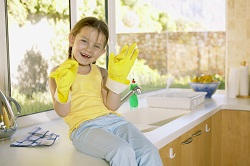 Your porch or patio is most often neglected during your house cleaning; partly because it is technically outside the house, and partly because, being outside, it is subject to the weather and will get dirty soon after you clean it. But having a clean patio adds to the beauty of your house, especially if that is where you will be hosting your guests during a party. Cleaning your porch can be tricky, depending on what kind of material it is made of. Those made of concrete, stone or similar material are easier to clean than those made of wood. How you clean also depends on the method you use – hand washing or pressure cleaning. Although hand washing takes longer, it gives better results because you get to work in detail. Pressure washing, on the other hand, is quicker but could possibly be more expensive, since you would probably have to call in cleaning contractors with powerful machines and expertise. No matter what material your patio is made of and what method you choose, this summarized cleaning routine will ensure that you get an easy and efficient clean.Make a planDepending on how big your patio, you might want to have a plan about how to go about cleaning. This is especially necessary if you are not hiring a company to do the job for you. Analyze which areas are more visible or are more likely to get high traffic, and hence get dirtier, and pay more attention to cleaning them. Splitting the patio into different areas will help compartmentalize your work and keep you motivated between breaks as well. Move furnitureBefore you begin cleaning, it is important to prepare the area by moving furniture or plant pots out of the way. It is easier to move around and clean if you have an open space available. Also, you will get the dirt that usually gathers under furniture and be able to address spots and stains made by pots or furniture. This is absolutely essential if you are using the pressure cleaning method, because the pressure can damage your patio furniture. If you don't have extra space in the house, move the furniture to another area of the patio while you clean the other side. While you are moving your furniture to another place, you might also want to clean it there before you put it back on the porch.SweepBecause your patio is an exposed area, it is necessary to sweep away the dirt and debris that collects on your porch over time, such as sticks, leaves, soil, grit, etc. Moving these solid particles out of the way will help ensure that you do not mark or scratch the surface of your tile or wood while you are cleaning. This can be especially tedious to do by hand, so use a powerful vacuum/blower, such as used by professional cleaners, to suction or blow away the debris.CleanWhat you use to wash your patio depends on what it is made of but soap and water suffice for most surfaces. If you are using a pressure wash, you might even use special patio cleaners from your local store. Whatever you use, make sure that it cuts through dirt and grime equally well. After you are done with cleaning, you might want to rinse away the soap residue. However, avoid using too much water on wooden floors. Rinsing is essential to make your patio floor less sticky from soap suds. Cleaning your porch will also make it smell nice and make your house clean, in that you will not be treading in dust and dirt every time you step out in the patio.
You may also like: