Testimonials
I wanted to hire a house cleaning service so that my wife and I would have more time to spend...
Darren Charles
I was over the moon with Cleaners Bloomsbury as they managed to do an end of tenancy clean...
Rita Watts
I used to dream of my flat looking beautiful and pristine. Everything ended up all over the...
James
When I first looked into hiring a cleaning company Bloomsbury Cleaners were a name that came...
Sue
I do take great care when it comes to house cleaning and I like to think in general I do...
Brenda H.
I wanted to surprise my wife with a clean home as she had been overseas with work. I was...
Charlie Pastor
When I moved house I needed a new window cleaner but I didn't want one that was going to be...
Lizzie Simpson
I am a carpenter by trade and I work for a local but very popular construction company. My...
Bob Henson
I was so pleased with the recent house cleaning service I have just had done by the team from...
Freda
Thanks so much to all at Bloomsbury Cleaners who have been doing such a sterling job for our...
Louis L.
Getting Food Stains Out Of Clothing
11

Apr 2014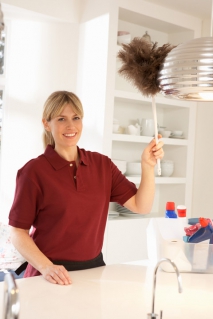 Stains will put the fear of god in you if you don't know how to deal with them. Whilst they may seem small on a planetary level, staining can completely ruin a garment, and you would be lucky to remove many of the stains that seem so common in the family home if you are not prepared with the adequate information or cleaning products. If you have stains that are on dry clean only clothing, then they need to be attended to by the dry cleaner before anything else, but if it is on normal clothing, then you should attend to the stain before washing, as washing machines can simply cook the stain in to your clothes, which will make them impossible to remove. If you feel that a mark is not going to stain, and would like to try washing it out rather than bothering with the stain removal techniques, then only do so on a cool wash. You will then at least avoid heating the stain into the fabric too severely. Always check the garment after washing to see if it is stain free before drying, for the same reasons.Depending on what the stain is, there are many different methods for removing them, so have a look over the following tips for various common food stains in clothing.Tomato sauce - For ketchup and the like, try mixing up a paste out of salt and baking soda with water. Make the paste thick, and cover the area of the stain on both sides of the cloth. Leave this paste to dry, and rinse and repeat if necessary when the paste is almost dried up. The baking soda carbonates on contact with water, and this will fizz away at the soiling pigment, whilst the salt soaks it up as it gets loosened form the fabric.Fruit - For fruit like strawberry or orange, try using white vinegar. The acidity of vinegar will eat away at the staining pigments, pulling them form the fibers in the clothing. If you give the vinegar half an hour or so to work on the stain, then rinse and repeat, you should see a difference. If you feel that the vinegar is doing its job well, then put it on to wash after a couple of rounds. Remember to try it on a cool wash first, to avoid the residue being set in to the fabric. Chocolate - Chocolate should never be treated with cold water, like the other stains, as the coolness will make it set. In opposition to the other stain's you should only treat chocolate with very hot water, running it through the fabric and rubbing away at it with your fingers. Once you have gotten rid of most of the residue, you should add a little detergent, and repeat the rinsing process. You should find that the chocolate is removed fairly easily, but make sure the water stays hot!Marmite - to remove marmite, use lukewarm water, but no hotter than 30 degrees celsius. If you go any hotter, then you risk heating the stain in to the fibers. Get as much as you can out of the fabric with just the water, and then once the residue is gone, you can apply the same salt and baking soda paste to the stain as you would for ketchup. If this doesn't work, then you may need to try using digestive enzymes, which can be crushed form the pills that they come in, to form a paste with water, that will eat away at the staining pigment.
You may also like: