Testimonials
I wanted to hire a house cleaning service so that my wife and I would have more time to spend...
Darren Charles
I was over the moon with Cleaners Bloomsbury as they managed to do an end of tenancy clean...
Rita Watts
I used to dream of my flat looking beautiful and pristine. Everything ended up all over the...
James
When I first looked into hiring a cleaning company Bloomsbury Cleaners were a name that came...
Sue
I do take great care when it comes to house cleaning and I like to think in general I do...
Brenda H.
I wanted to surprise my wife with a clean home as she had been overseas with work. I was...
Charlie Pastor
When I moved house I needed a new window cleaner but I didn't want one that was going to be...
Lizzie Simpson
I am a carpenter by trade and I work for a local but very popular construction company. My...
Bob Henson
I was so pleased with the recent house cleaning service I have just had done by the team from...
Freda
Thanks so much to all at Bloomsbury Cleaners who have been doing such a sterling job for our...
Louis L.
Finding A Professional Cleaning Company For Your Home
13

Feb 2014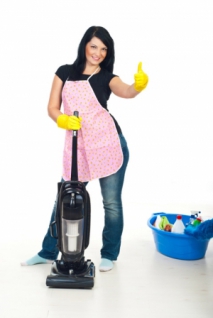 At certain points in your life, there comes a realization that it's not really possible to be cleaning the whole house whilst also holding down a job and having a healthy personal and family life. At this point what do you do? Perhaps get a divorce? Send your kids to a faraway boarding school? Of course not, you get a professional cleaner! A domestic cleaning service will ensure that you are living in a beautiful and healthy environment, whilst also taking the pressure off of your housework. Imagine the benefits of having that little bit more free time, and the little bit less pressure to keep the place looking nice amongst everything else! Given the amount of experience that a cleaning professional will have over you, the speed with which they can get the job done can be quite surprising, so why not have a look in to getting a cleaner in for a test clean, to see if the results are worth the costs in your opinion? Of course that is all well and good, but how do you find the right cleaner for your needs?
For a start, you should always ask around your friends in the area for any advice they may have. You will find that many people use a cleaner sometimes, whether it is every now and again, regularly, or just for their offices at work. Knowing what to expect from a cleaning professional is pretty essential, as that way you will not be worrying about letting a stranger in to your home. The fact is, if your friend has been using a cleaner, then they are much more likely to do a great job, as they know that you will be talking about their results! You will also know whether they are worth the money in the first place, and that they are trustworthy and effective.
Unfortunately you may well find that there is no one that suits your needs. Have a look online and find a cleaning company who can get to your house easily. Have a chat with them on the phone; do you feel like they are friendly? Customer service is often a great telling point for when you are deciding on who to employ. If you feel like the person representing the company on the other end of the telephone is not particularly pleased to hear from you, then it is unlikely that you are going to be getting an amazing service from their cleaning team! Using a company means that you will always have a solid point of contract and that you can keep your relationship with your cleaner less personal, which may suit your needs. Should you feel unhappy with the way in which your cleaner is performing, then a call to the company will have them reassigned, and you will get a new cleaner. However, a cleaning company will take a cut of the cleaner's wages, which can seem a little unfair.
Finding an independent cleaner is not always the best way to go however; they may lead to a more friendly relationship, which is great if you want that, and they will be getting the full amount that you pay them, but working on such personal terms can lead to issues. If they are ill or have an emergency, then you can't do a lot about whether they turn up, as they are essentially freelancers. This means that you have debate over firing them or not, and if you are friendly, then that can be extremely difficult!