Testimonials
I wanted to hire a house cleaning service so that my wife and I would have more time to spend...
Darren Charles
I was over the moon with Cleaners Bloomsbury as they managed to do an end of tenancy clean...
Rita Watts
I used to dream of my flat looking beautiful and pristine. Everything ended up all over the...
James
When I first looked into hiring a cleaning company Bloomsbury Cleaners were a name that came...
Sue
I do take great care when it comes to house cleaning and I like to think in general I do...
Brenda H.
I wanted to surprise my wife with a clean home as she had been overseas with work. I was...
Charlie Pastor
When I moved house I needed a new window cleaner but I didn't want one that was going to be...
Lizzie Simpson
I am a carpenter by trade and I work for a local but very popular construction company. My...
Bob Henson
I was so pleased with the recent house cleaning service I have just had done by the team from...
Freda
Thanks so much to all at Bloomsbury Cleaners who have been doing such a sterling job for our...
Louis L.
4 Bathroom Cleaning Tricks
13

Aug 2014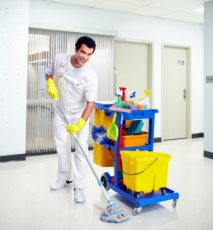 When it comes to cleaning the bathroom, you will find that it is important to have a set way of doing things. If you only clean the bathroom fairly rarely, then it can get to the point where you meander about the room, wiping things as you see them, and never really giving the room the deep clean that it deserves. This can be an issue in that the bathroom should feel sparkling at all times, to ensure that nothing gets in the way of enjoying the experience of washing yourself. There can be little more disconcerting than being a dirty room whilst trying to get yourself clean! Have a look over the following tricks and tips on bathroom cleaning to ensure that there is no chance that you are missing a good way to get your bathroom looking its best.1. OrderFor a start, it is essential that you have an order within which you do the cleaning. You will find that having a checklist in which you can tick off jobs will mean that you are able to get a lot more done in a shorter space of time. This will ensure that you are doing things in a tactical manner, and never missing a part of the cleaning out. Knowing that the order is in place, and that you will be able to get everything done well without having to wonder as to what it is you need to do next will mean that you don't waste any time working all of that out. It is best to do messy jobs first, and ensure that you work your way downwards, alongside gravity, to prevent cleaning the floor, and then covering it in soap again! Memorize the order, and set it to use whenever you come to clean.2. LimescaleLimescale is one of the biggest problems in the bathroom, but it can be beaten. Many people have a quick go at it with the wire wool or rough sponge, but it will rarely abate, and you can waste a lot of time and effort on the process, if you are not doing it in a way that makes it easy. Applying acid to the limescale will ensure that you are getting at it in the best way possible, but it can be difficult to get it to stay in peace on things like taps. White vinegar is an extremely useful way to get through limescale, and if you can remove the tap, then it can rest in the stuff, which will eat through it overnight.3. Soap scumSoap scum can be tackled easily with washing up liquid. Make a froth of the stuff in the bottom of the bath or the sink, and use a scrubbing brush or rough sided sponge to wipe it away easily and quickly. If you have had a hard time with cream cleaner in the past, then it is worth looking in to using common washing up liquid!4. General use of the bathroom.Ensuring that the bathroom is cared for when you are not cleaning will reduce the stress in terms of how you clean it. You will find that you can ensure that the place does not get too dirty by ensuring that you don't leave the tops off of product bottles, and having a soap dish, to localize soap scum. Opening the windows after a shower will reduce the likelihood of damp and mold, and avoiding getting too much water on the floor will help you keep it clean and slip free.
You may also like: